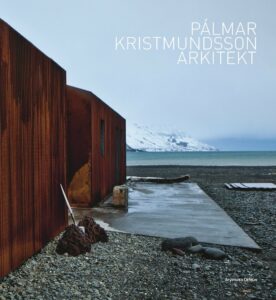 PK Arkitektar is an Iceland-based architecture and design studio established in 1986 by the architect Pálmar Kristmundsson.
We worked during several months on the update of pk arkitektar book : collecting pictures and sorting the media database, adding some pictures from our own photographic work, and updating the global layout. This work was then passed to Arvinius + Orfeus Publishing.
The book Palmar Kristmundsson Arkitekt was published in February 2014 by Arvinius + Orfeus Publishing.
Editor : Daniel Golling, Julie Cirelli
Graphic Design : Maria Sånge
"This monograph celebrating the work of Icelandic architect Pálmar Kristmundsson is the first ever published by an Icelandic architect.
Kristmundsson was born in 1955 in Þingeyri, Iceland, to a family of fishermen. This small village in the Vestfjords of northern Iceland would be the incubator for Kristmundsson's "Þingeyri Space Theory", the idea that form and material can only be understood through the context of place. It would also be the source of his decades-long love affair with raw metal, concrete, and using industrial materials in a refined context.
The book follows Kristmundsson's journey from his first encounters with makeshift fishing structures to his early education in vernacular Japanese architecture and subsequent rise to one of the most prominent figures in Icelandic architecture today."